11. Distance Healing Prayer
This is a prayer for healing of any kind, including spiritual warfare cases. This prayer was actually given in response to a spiritual warfare case.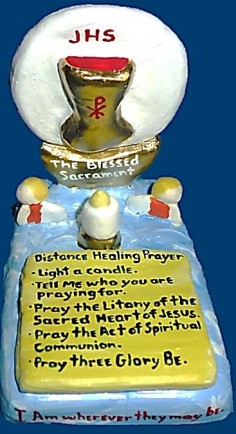 The Blessed Sacrament
Light a candle

Tell Me who you are praying for

Pray the Litany of the Sacred Heart of Jesus

Pray the Act of Spiritual Communion

Pray one Hail Mary

Pray three Glory Be

>
I Am wherever they may be.
Meaning: The Heart of Jesus is said to be present in the Blessed Sacrament. The Act of Spiritual Communion is a prayer said when one is unable to receive communion.
1772