14. Consolation Prayer
This is a prayer God gave to a friend who was deeply grieving the tragic loss of a loved one. God initially gave the message in Filipino, and then translated it in English. So, I take it to mean that this prayer, although given to someone, can be prayed by anyone who needs God's consolation.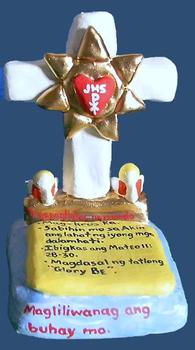 Savior of the world
Sign yourself with the cross

Tell me all your woes

Say Matthew 11:28-30

Pray three Glory Be.
I shall lighten you up.
Consolation Prayer
SIGN YOURSELF WITH THE CROSS

TELL ME ALL YOUR WOES

SAY MATTHEW 11:28-30
Come to me, all you who labor and are burdened, and I will give you rest.  Take my yoke upon you and learn from me, for I am meek and humble of heart; and you will find rest for your selves. For my yoke is easy, and my burden light.

Pray three Glory Be
1778