Introduction - Forword

God's Introduction
My dearest child,
If today you hear My voice,
harden not your heart.
5
Foreword
This book is a compilation of revelations from God given through mental messages and sculptures. What is written is what I have come to embrace as the truth.
God does not use many words. As He said, less is more. His answers are simple, many times humorous, yet profound. With each reading, the meaning of His words deepens.
In this book, God reveals the answers to many so-called mysteries. God likens His approach to the Summa Theologica, "a book written by Thomas Aquinas, which presents the reasoning for Christian theological beliefs"2.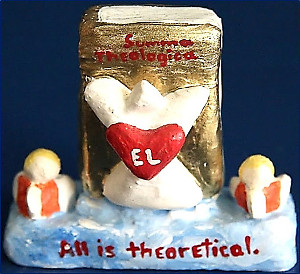 Book titled
Summa Theologia
All is theoretical
6